Linear is a better way
to build products
Meet the new standard for modern software development.
Streamline issues, sprints, and product roadmaps.
Get started
App
Powering the world's best product teams.
From next-gen startups to established enterprises.
Unlike any tool
you've used before
Designed to the last pixel and engineered with unforgiving precision, Linear combines UI elegance with world-class performance.
Built for your keyboard
Fly through your tasks with rapid-fire keyboard shortcuts for everything. Literally everything.
Breathtakingly fast
Built for speed with 50ms interactions and real-time sync.
Meet your command line
Complete any action in seconds with the global command menu.
Issue tracking
you'll enjoy using

Create tasks in seconds, discuss issues in context, and breeze through your work in views tailored to you and your team.
Parent and sub-issues.

Break larger tasks into smaller issues.
Automated backlog.

Linear will auto-close and auto-archive issues.
Custom workflows.

Define unique issue states for each team.
Filters and custom views.

See only what's relevant for you.
Discussion.

Collaborate on issues without losing context.
Issue templates.

Guide your team to write effective issues.
List and board
Switch between list and board layout to view work from any angle.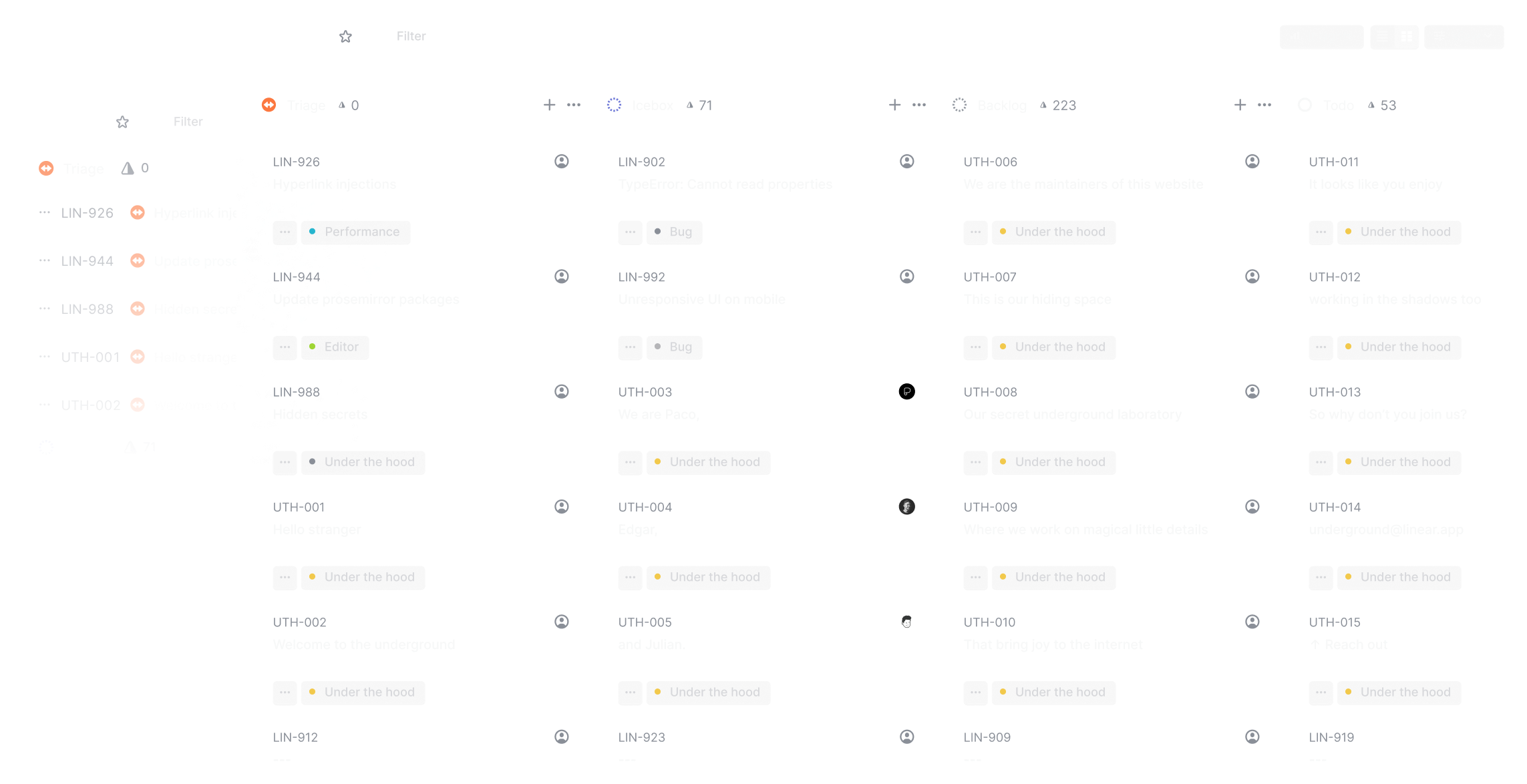 Make it yours
Quickly apply filters and operators to refine your issue lists and create custom views.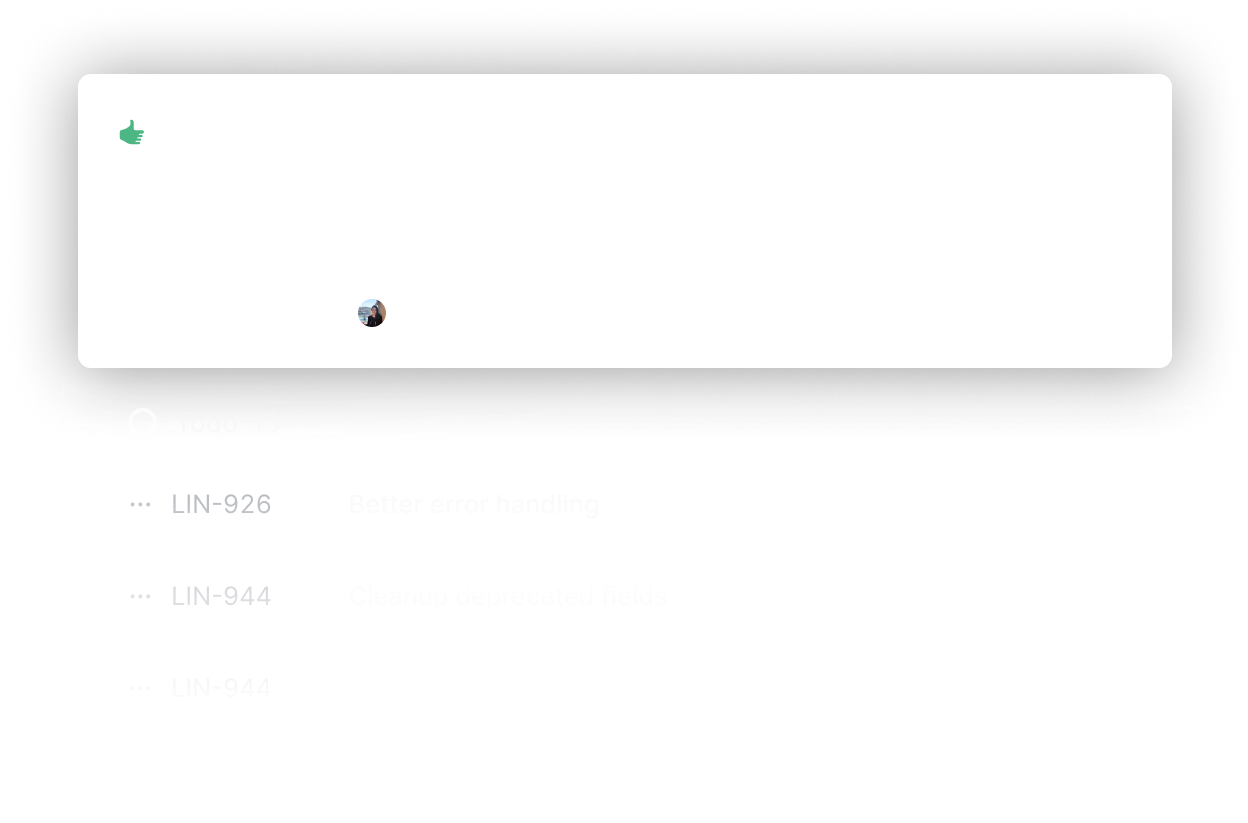 Build momentum
with Cycles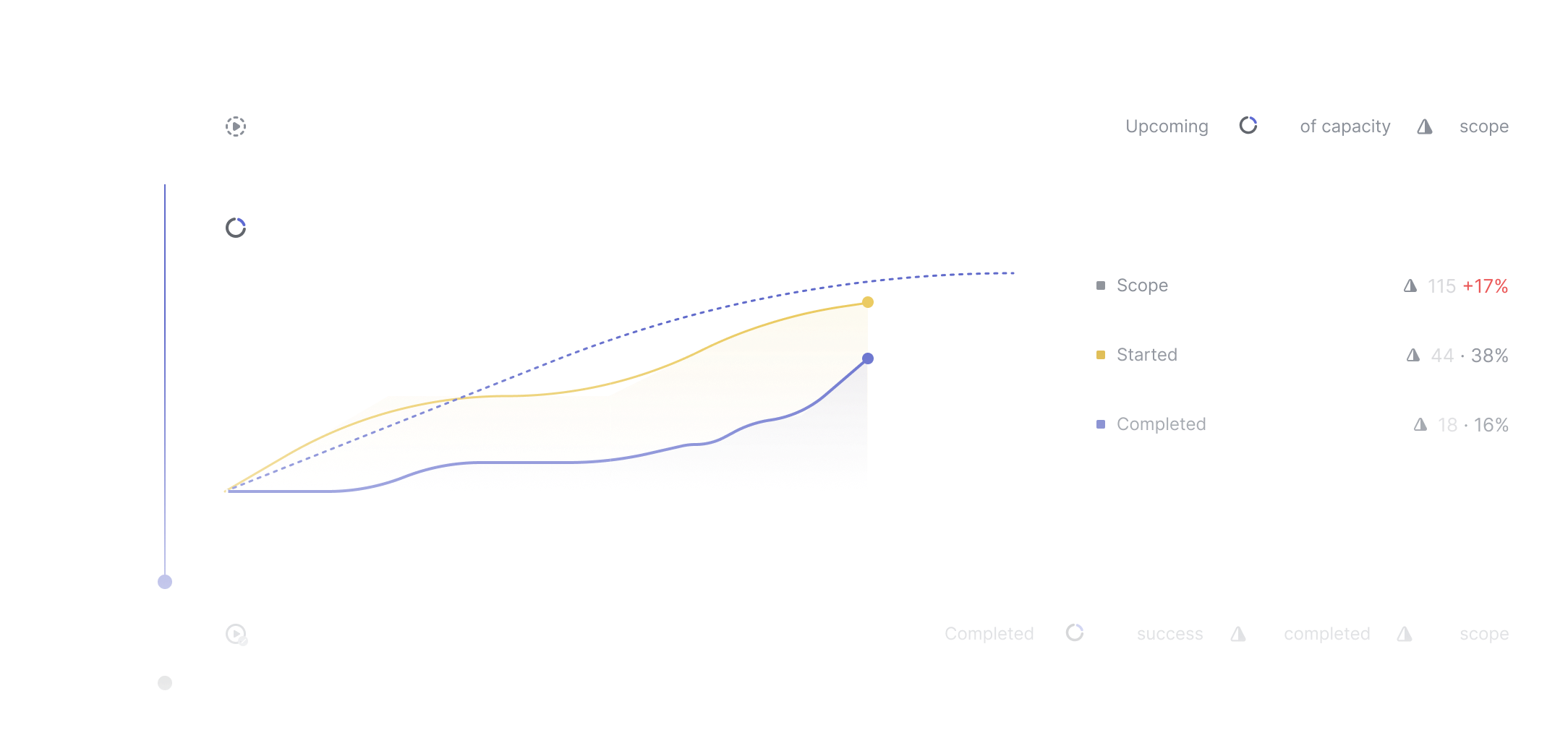 Cycles focus your team on what work should happen next. A healthy routine to maintain velocity and make meaningful progress.
Automatic tracking.

Any started issues are added to the current cycle.
Scheduled.

Unfinished work rolls over to the next cycle automatically.
Fully configurable.

Define start date, end date, duration, and more.
Predict delays.

Get warnings for at-risk cycles.
Scope creep.

Understand which issues are added mid-cycle.
Be prepared.

Schedule work in advance with upcoming cycles.
Set direction
with Roadmaps Plan visually, collaborate in cross-team projects, and make better decisions with progress insights and project updates.
Multi-team projects.

Collaborate across teams and departments.
Project documents.

Write project briefs and specs directly in Linear.
Custom roadmaps.

Organize projects across multiple roadmaps.
Timeline view.

Visualize the product journey ahead.
Project insights.

Track scope, velocity, and progress over time.
Personal notifications.

Stay in the loop on project activity and updates.
Project updates
Keep everyone up-to-date on the health and progress of projects.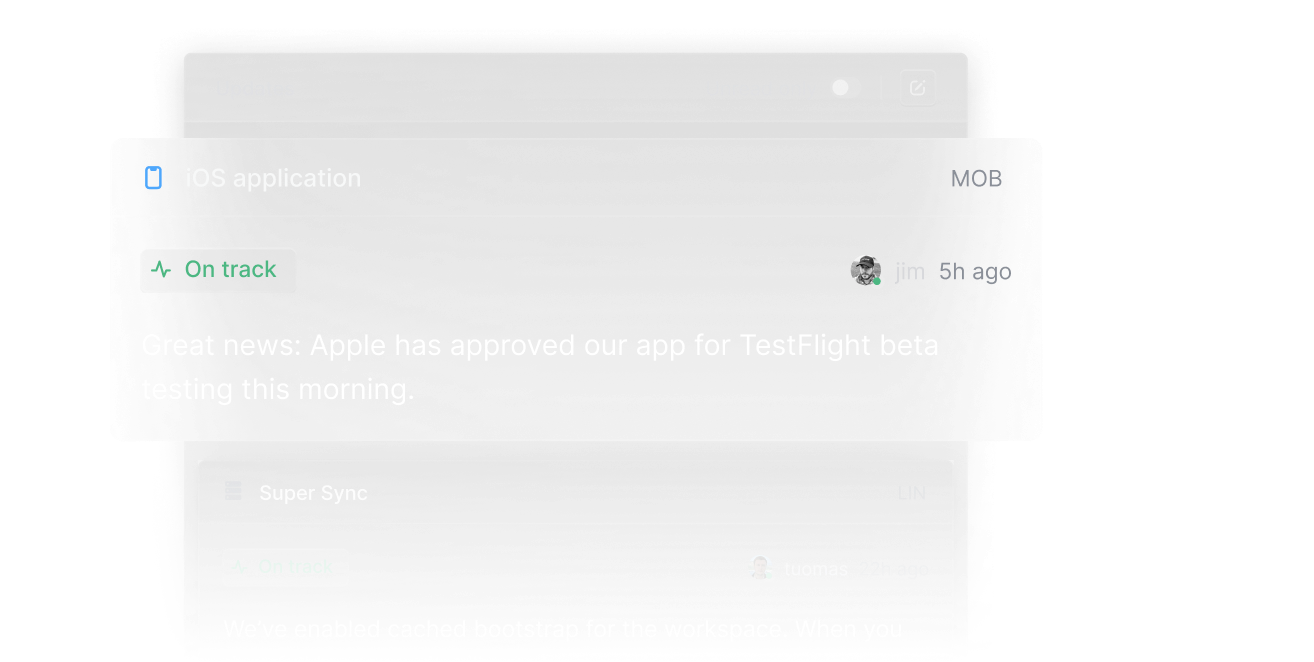 Focus on the big picture
Explore every company project in one view to easily identify what needs attention. Linear workflows.
Exponential results.
From customer support integrations to powerful Git automations, Linear streamlines the entire product development process.
GitHub and GitLab.

Sync PRs with issues that close automatically.
Slack and Discord.

Create issues and set up alerts.
Sentry.

Automatically create issues from code exceptions.
Airbyte.

Sync workspace data to external warehouses and databases.
Front, Intercom, Zendesk.

Keep a tight loop with your users.
Figma.

Streamline work across design and engineering.